ASX investors know the benefits of investing in the healthcare sector, having seen some major payoffs from the biotech and medtech spaces, specifically.
Topping the list are household names such as $90 billion capped biotech leader CSL Ltd (ASX:CSL), diagnostics company Sonic Healthcare (ASX:SHL), and medical device companies Resmed (ASX:RMD) and Cochlear (ASX:COH), to name just a few.
While those companies are well beyond their days of being up and coming listed juniors, there remains a lesser known slice of the healthcare sector: the fast moving health informatics, or healthcare IT sector from which the next household names could emerge.
Like biotech and medtech, health informatics, the management and use of data to improve healthcare analytics and clinical decision support systems, will ride similar macro thematics: rising healthcare spend, growing — and aging – populations, and technological and medical innovations.
In fact, clinical data management is now the focus of strong innovation.
As this sector moves to digital solutions in order to improve productivity and address clinical risk and avoidable errors, it will replace legacy IT systems and manual communication tools that are just not doing a decent enough job.
The company I'm looking at today comes with significant potential and is leading the way in informatics, a particularly lucrative area of healthcare that is seeing a rapid shift to digital patient data driven by the need for real-time healthcare analytics.
Introducing,
Alcidion Group
ASX:ALC
Market Cap: $44.3 million
Share price: $0.053 (as at March 18, 2019)
Here's why I like it…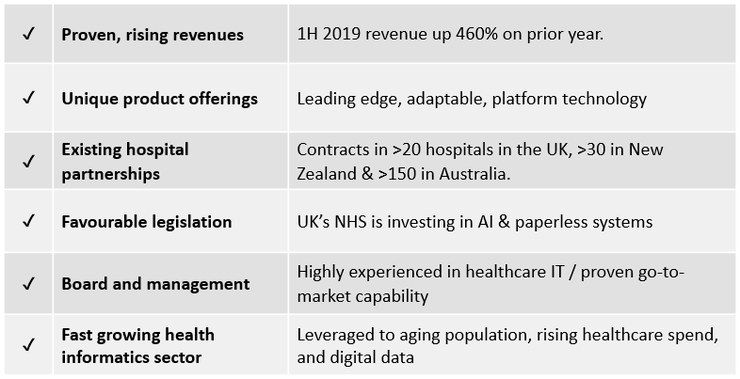 Why Alcidion is worth a closer look
There's winds of change blowing through the City of Churches. While it is best known for the Fringe Festival and being the gateway to wine country, it may also be home to a revolution in healthcare informatics.
And that is all down to one company.
Adelaide-based Alcidion Group (ASX: ALC) and its leading edge, adaptable informatics technology.
According to Alcidion CEO Kate Quirke, ALC's systems have been 10-15 years in the making. She tells Next Tech Stock, "Alcidion's view is that we could use smarter informatics and artificial intelligence, machine learning capabilities to draw on all of the data we've been collecting for the last 10, 15 years and actually create something really smart and insightful and present it to the doctors and nurses at the bedside, in the home, or wherever it is required in order to improve patient outcomes."
Alcidion was onto something as its tech is being adopted by major hospital groups worldwide.
The company, which arrived on the ASX in 2016, via a reverse listing into a mining company, has all the makings of being a breakthrough stock in this sector.
That's a big call, but knowing now of the type of solutions ALC has in its pipeline, it becomes clear that this company is worth a closer look. Certainly its financial performance in H1 FY2019 suggests it is moving in the right direction: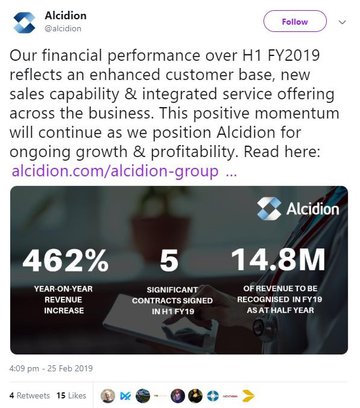 While trading on the ASX with a market cap of just $44 million, ALC already has some serious healthcare clients on its books, including the UK's National Health Service (NHS), Queensland Health, NSW Health, Victorian Department of Health and Human Services, ACT Health, and eleven District Health Boards in New Zealand.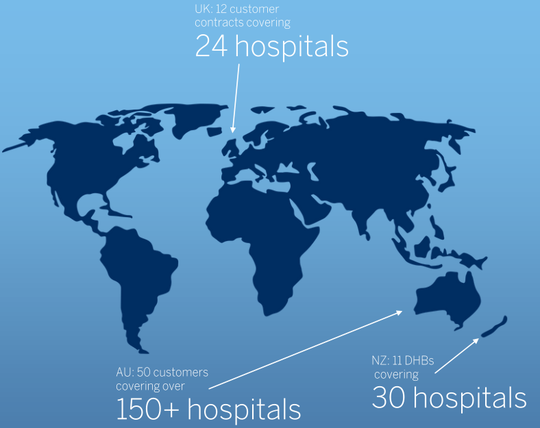 These customers include…

Yet it is still early days, with demand only now increasing as health providers look to improve patient outcomes and reduce inefficiencies in healthcare delivery.
Quirke says, "After cancer and stroke, preventable errors in healthcare delivery are the third biggest killer of US citizens. Here in Australia, it's approximately one in nine patients that have an adverse event, costing us about half a billion dollars every year. It's been pretty well documented for 20 years that the delivery of healthcare is not necessarily a safe environment."
Thus it is safe to say, effective solutions to avoid preventable errors, while at the same time improving efficiencies, are still hard to come by.
That's where ALC steps in, and why I believe a large-scale rollout of its solutions could propel the company and send its stock well above its current four cent share price.
First customer outside Australia to adopt Alcidion's total product suite
Adding to the list, ALC has today announced that it has won a major contract with Dartford and Gravesham NHS Trust in the UK, under which Alcidion will deploy the first Miya Precision, Patientrack and Smartpage installation outside of Australia.
The five year contract with Dartford and Gravesham is valued at £1.16 million (A$2.1 million).
Quirke said, "This is a major win for Alcidion. Although the company has a strong presence in the UK with Patientrack, this is the first integrated installation of the complete product platform – Miya Precision, Patientrack and Smartpage – outside of Australia.
"This contract is solid proof that we can effectively leverage our reputation and relationships in the UK and introduce an innovative new technology solution to the UK market."
Alcidion will deploy the Miya Precision platform integrated with Smartpage and Patientrack in all wards across the entire Trust, to enable safer and more efficient patient care, reduce the burden of paper and deliver state-of-the-art information and technology to frontline clinical staff.
The product suite will provide electronic patient observations, electronic paper charts, clinical assessments, clinical noting, patient flow, bed management and electronic discharge summaries for GPs.
The clinical team will have online access to patient information 24 hours a day, where and when required to provide the optimum level of patient care through mobile computing.
Alcidion expands business to deliver much needed solutions
The company last year made some considerable strides as it delivered much needed data solutions to hospitals and healthcare providers. It made a number of acquisitions, while continuing to develop its health data management technology.
The company came to the conclusion that it was "going to improve the safety of patients in hospital", Quirke says. "We're going to increase efficiency. So we're really about saying, 'Let's make it safer care. Let's make it more efficient. Let's use this data, apply some of the new technologies we now have and change the system'."
To make this leap to "transform healthcare", Alcidion Group completed the acquisition of IT solutions and services provider MKM Health along with Patientrack and healthcare software company Oncall Systems (Smartpage) last year and commenced integration of these newly acquired entities with its existing leading core technology, Miya.
Adding these businesses delivered a broader portfolio of products and services, a larger and more diversified customer base and an enhanced financial profile.
Here's a snapshot of the business' transformation over the past 12 months.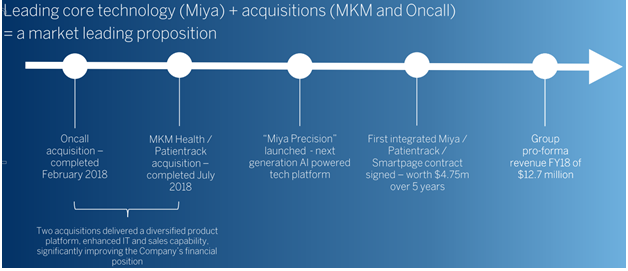 The two acquisitions delivered a diversified product platform, enhanced IT and sales capability, significantly improving the company's financial position.
Each company brings a complementary set of products and skills that create a unique offering in the global healthcare market.
Alcidion's product suite
Before I get into my take on ALC, let's get a better understanding of the technology and how the company is solving very real issues facing healthcare providers. For starters, here's ALC Chairman, Ray Blight, speaking to CommSec regarding the company and its platform:
A hospital is actually a whole lot of little industries. Orthopaedics and obstetrics, for example, are completely different. Each has really interesting, yet quite different insights into the patient's data.
ALC has built a platform that allows that flexibility across a hospital system and related industries. Its solutions support interoperability, allow communication and task management, and deliver clinical decision support right at the point of care in order to improve patient outcomes.